Brazil: A True Paradise for Beach Lovers
If your idea of paradise is sun, sand, gentle breezes, delicious food, and strong cocktails, a week in Rio de Janeiro , Brazil may be right up your alley. March through June and August through November are considered the best time to travel there as it is considered off-season for travel to Brazil, so now would be a great time to book.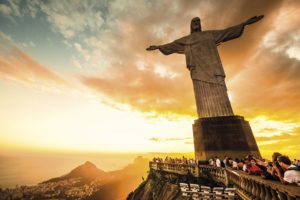 Copacabana Beach is probably the most famous in the world. With friendly people and rich culture, you will enjoy the many aspects of Rio and all it has to offer. Some of the finest cuisine in the world, lush tropical forests, Iguassu Falls that lies between Argentina and Brazil, exciting nightlife, Sugarloaf Mountain and, of course, Corcovado where you can take the red train and in 17 minutes behold the majestic Cristo Redentor statue. The view on the way up to this famous mountain is a spectacular one.
Most of the restaurants in Brazil are affordable and inexpensive, and socializing with tourists is a way of life for all Brazilians. Rio is a shopper's paradise as most of the shops stay open late into the evening. Particularly notable are Rio's jewelry. Here, you can shop around for silver jewelry as well as emeralds. Here's another bit of good news: The US dollar is widely accepted here as well, but check the exchange rates just in case.
After dinner, that may consist of Rio's specialties including shrimp dishes, beef stews, or grilled meats, you can work off these fabulous meals by spending time enjoying Rio's nightlife. Since most of the entertainment in Rio begins after midnight, you may want to walk around the city and stop at a few shops before embarking on the evening's entertainment. The best clubs offer a variety of shows that will keep your feet tapping till dawn.
You may need a good strong cup of coffee to get you going in the morning after a night of Samba dancing. Brazil is noted for having not only the best coffee but the strongest as well. You may also want to check out other notable beverages which include wine, beer, and juice drinks that are a particular favorite of the locals.
There is one caveat, however, as you consider Rio for your summer in the sun. The beaches in Rio are situated on the Atlantic coast and therefore, can get a bit rough. Check with the concierge at your hotel to ascertain the best time to go swimming or simply soak up the sun on the beach and swim in the hotel pool.
Also, if you purchase a Rio de Janeiro guidebook you will most likely find exciting things to do as well. In particular, you may wish to engage in hang gliding or take a walking tour of Rio, hike in Tijuca National Park, or visit one of the most beautiful Botanical Gardens Rio has to offer, Jardim Botanico.
Whether you decide this vacation will be filled with sightseeing or, if you prefer, just a week of relaxation lounging in the sun on Copacabana Beach, Rio de Janeiro is one destination that has it all!
Save Time. Save Money. Safe Effort.
Let eGO Vacations take the stress out of your next getaway with our free vacation planning service.